The hottest trend everyone who's anyone is exploring is the "Maximalist" look.
In short it's the unapologetic use of bold, big prints and accessories, often encompassing fable story telling, nature and adventure – and it's all about luxury and beauty.
The Ivy, Brighton has maxed out with it's clever and eclectic use of bold prints, jungle patterns and exuberant use of brass and gold.  All this intertwined with stunning velvet deco style furniture and large tropical plants makes this the most Maximal and on trend of restaurants.
A lot of the designs used in this high-end eatery were from Linwood fabrics, including Tango and Fable collections.
Even the high street have taken on the cue. Take IKEA, for example, the kings of the minimal, are throwing themselves into the trend with their FÖREMÅL collection. which includes skull-shaped vases, dog candleholders and bold cushions.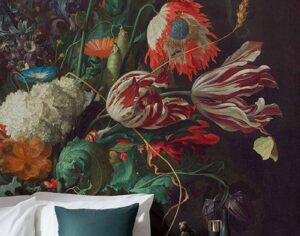 If you want to experiment with the look, without going all out, try it out by putting up a wall mural (Murals Wallpaper) or buy some quirky accessories from Rockett St George.
And we are totally getting into the spirit with our fabulous gold palm lights bought in Provence. Living Etc showcased this look with a the gold peacock image pictured below.